FOR IMMEDIATE RELEASE
Contact: S.J. Green
(585) 458-7745
sj@millerbrick.com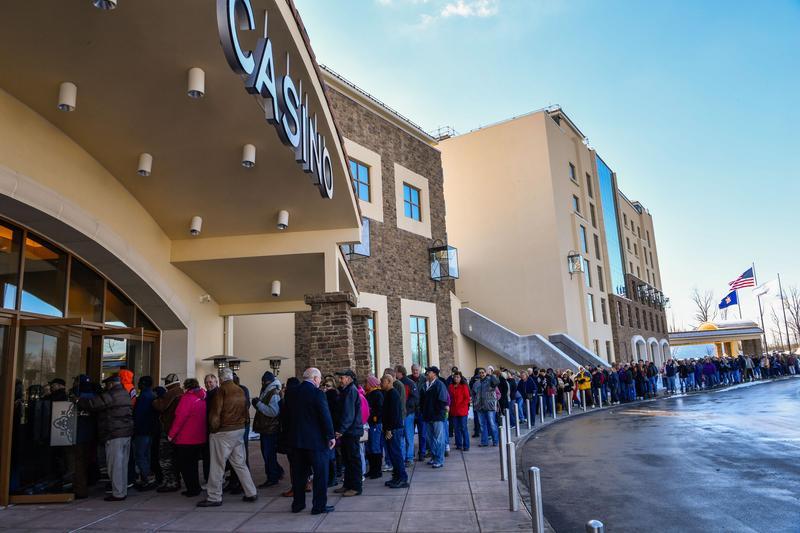 Miller Brick helping to revitalize upstate New York with brand new del Lago Resort & Casino
ROCHESTER, NY (March 27, 2017) – Miller Brick continues to be a premier supplier of brick and stone products in upstate New York with the opening of the brand new del Lago Resort & Casino in Tyre, NY. Hundreds flooded the Vegas-style casino for its opening on February 1st, and the buzz it has generated has cemented it as one of the hottest getaway spots around.
Local Rochester company Miller Brick supplied about 40,000 sq. ft. of Eldorado Fieldledge stone in the color "Veneto" for a modern and luxurious feel to the exterior. Inside the resort, Miller Brick supplied about 5,000 sq. ft. of thin brick in a special custom color blend, appropriately named "del Lago Special Blend."
"It's exciting to be a part of this massive $440 million project that is helping to inject energy into our local economy," says Dave Degnan, President of Miller Brick. "We loved the challenge of finding just the right kind of stone and brick veneer to match the theme of this elaborate resort and casino, and we feel the end product meets our client's needs."
Miller Brick is the frequent go-to for many homeowners in the Rochester area for all types of indoor and outdoor projects including patios, pools, walkways, fireplaces, entrances and more. However, the company is also busy with many large scale commercial projects in the area. Having supplied much of the brick for College Town at the University of Rochester and the recently constructed Golisano's Children's Hospital, Miller Brick is contributing to the resurrection of the city of Rochester in a big way.
Its newest endeavor is a building at the end of Fauver Stadium at the U of R in which Miller Brick is suppling an array of Glen Gery brick for the exterior. SWBR Architects and the Pike Company, both local to Rochester, are also behind the project.
ABOUT MILLER BRICK
For seasoned professionals and novices alike, Miller Brick offers an unsurpassed level of service not available anywhere else. Their friendly and knowledgeable team guides their clients through every step of their projects – brain storming, planning, budgeting, product selection and installation, and will ensure their satisfaction is met throughout this exciting experience.